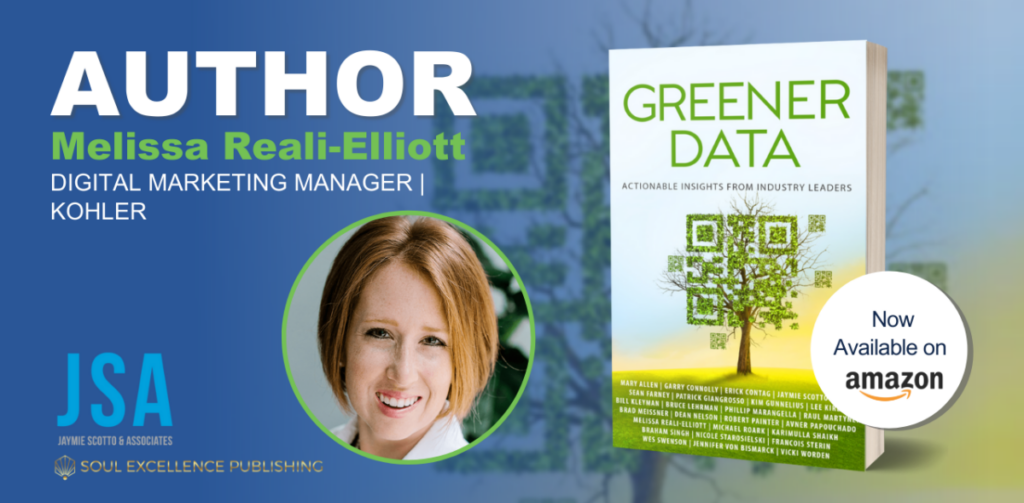 GREENER DATA Author Spotlight
Melissa Reali-Elliott, is a self-professed data center nerd with 15 years of industry experience in mission critical marketing, branding, and messaging. She currently serves as digital marketing manager at Kohler Data Centers. Reali-Elliott is a contributing author to the Amazon Best Seller, Greener Data: Actionable Insights from Industry Leaders that debuted on Earth Day – April 22, 2022.
One of the core tenets of your team at Kohler Power is the importance of asking questions, and to constantly push yourselves and your teams to challenge the status quo. Thinking holistically about the data center industry in general, how do you apply this principle to the idea of greener data?
Kohler prides itself on being bold, on innovating, on having the ambition to be better tomorrow than we are today. We recognize that with the growth in digital economy, remote work, developments in industry, the ways we do business have radically changed. To that end, we are always striving for a higher standard of excellence and looking to lead by example. We aim to provide gracious experiences across all of our businesses, which involves getting into the details with enthusiasm, energy, and passion – going all in on our commitments – especially to the urgent needs to commit to environmental sustainability and clean energy solutions.
Our social impact efforts are tied to what we value as an organization, which include a commitment to a better planet, better community, and better lives. This has inspired purposeful innovations that recognize the planet as having limited resources and where we can make a measurable difference. With this in mind, we have challenged assumptions on technologies and product design to create solutions that will leave a lasting impact on the world and the industries in which we operate.
We all know that growth of data centers is at an all-time high, and with it, a growing need for reliable backup power. While generators are only a small amount of the emissions that data centers show, we all must do our part. Kohler has launched efforts to combine a variety of operational solutions, product advancements, and new technology applications to attempt to solve sustainability concerns.
The subtitle of your chapter is "Kohler's Evolutionary and Revolutionary Approaches". At face value it would seem that evolutionary and revolutionary methods are antithetical to each other. Why do you think it is important to attempt to balance both at the same time?
Evolutionary changes are a natural progression of continuous improvements over time. Revolutionary changes are the awe-inspiring, complete shifts that will change technology and processes forever. More often, we speak of revolutionary approaches in terms of disruptive innovation, because they set us on a new path to grow and evolve from.
We have to recognize that not every advancement will be shiny and new; some advancements will purely be different ways to make the existing technology work better, and that is just as important of a goal. Evolutionary and revolutionary efforts will always happen in parallel: we can't wait decades for major shifts to happen without working to improve incrementally at the same time.
The most exciting aspect of this industry is that it includes some of the most intelligent and creative innovators on the planet as well as Type-A operators who can stretch the limits to optimize processes. Using both aspects in concert will drive game-changing performance. Our mission is to make sure both efforts are working toward the same ultimate goal, for instance, sustainability.
Among the types of revolutionary progress made in the area of data center sustainability, in the chapter you mention several pieces of exciting new green technology you see on the horizon, from hydrogen cells to sustainable fuel sources. You also discuss evolutionary improvements made to diesel engines such as dealing with wet stacking and working to reduce pollutant emissions. Which innovation do you think is most exciting for the future of the data center industry?
At this moment, there are major shifts in the way of green fuel alternatives, which are a great example of advancements that lower carbon footprint and reduce greenhouse gas emissions. I think these are the most exciting opportunity right now, because they provide an immediate means for all data centers to accelerate sustainable practices within their facility.
Renewable diesel fuels yield massive improvements to the carbon footprint of diesel generators, with the primary benefit being a dramatic reduction in greenhouse gas emissions. The exciting thing is that these can be used in existing diesel engines without any other modification or maintenance change, giving us an immediate way to accelerate sustainable applications. In fact, Kohler has just approved use of HVO for all diesel engines in some of our regions; this can be used wherever diesel fuel is used today, achieving a reduction in CO2 emissions of up to 90%. It is 100% fossil-free and 100% recycled.
In the chapter you write about a concept you call sustainable thinking as something data center designers need to adopt moving forward? What is sustainable thinking, what are some examples of it, and why is it so important?
We speak of "sustainable thinking" the same way you might reference "creative thinking." When thinking about how to solve a particular challenge, many people are pressed to focus on finding a solution for a very fixed need in terms of products or technology. Some of the greatest advances come from the "out of the box" approach to question fundamental assumptions and preconceived notions.
Kohler is championing the ways our industry channels its creative thinking prowess by rooting it in sustainability up front. It is important to recognize that the data center space is an industry that cares. For many of us, these are more than just corporate initiatives, but personal missions.
Those who practice sustainable thinking are continually challenging preconceived notions of how we both design and operate digital infrastructure. By creatively and sustainably questioning our assumptions, we can assess every detail in order to accelerate growth in the most sustainable way.
One way Kohler has done this is by discarding assumptions on generator engine design, creating a solution specifically for data centers with sustainability in mind. Along with the new design came the realization that we can also take a new approach to maintenance and testing that reduces fuel consumption and pollutant emissions. Our tests have showed a net fuel consumption reduction near 50% and emissions reduction of over 80%. These latest results and technology advances are so significant that maintenance and operational procedures can be adjusted to deliver value economically and sustainably, all while ensuring reliability, optimal performance, and simplified management of data center resources. This is sustainable thinking put into practice.
In the chapter you write that "Kohler believes in a better planet, better communities, and better lives". How do you see your organization contributing to those values through Kohler's power technology? How are you planning to optimize the technology you currently have as well as to introduce new power solutions?
We at Kohler are proud of our accomplishments, but we always believe we can do better. Therefore, we are committed to sustainability in the data center space and are pursuing both revolutionary and evolutionary products and solutions on our journey to better. Kohler is well-versed in sustainability trends and innovative technologies that enable more efficient data center operations and maintenance.
Sustainability is near and dear to our efforts as a company. We know it won't be easy to solve for every challenge, but our vision of the future includes data center generators that leverage optimized and efficient diesel and after-treatment systems, as well as radical new approaches to backup power systems like utility-scale batteries and hydrogen fuel cells which challenge established norms.
The future of data centers is sustainable. We need reliable backup power in whatever solution is going to be provided. Change is coming and we will continue to improve, joining the industry in thinking sustainably to address environmental issues, sharing successes and failures, and embracing new means to drive change for a better future.
Buy the book online here, and follow the Greener Data movement on LinkedIn with the hashtag #GreenerData.
To learn more about the chapter, click here for Melissa's co-author Brad Meissner's special Greener Data episode of JSA's Data Movers podcast.