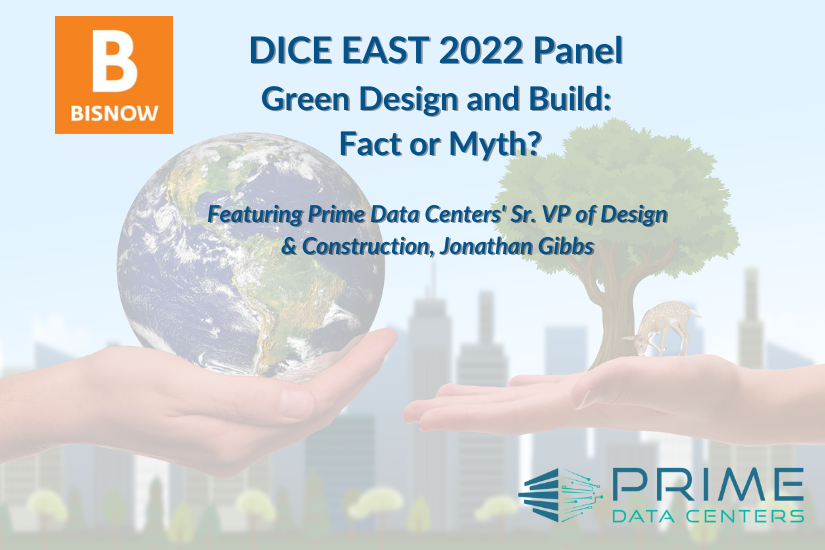 Following a successful ITW 2022, where Prime Data Centers' Partner and EVP, Jeff Barber, spoke on "Collaborating at the Edge," Prime's Senior VP, Design & Construction, Jonathan Gibbs, will head to Reston, Virginia, for DICE EAST 2022: A Premium Two-Day Data Center Event.
Taking place May 25 and 26, the event's overall theme will focus on "emergent sustainable digital infrastructure 4.0 and powering the global digital economy." Gibbs will speak on the panel titled "Green Design and Build: Fact or Myth," to be held Thursday, May 26 at 1:45 PM ET.
Gibbs will be joined by fellow executives, including:
Karen Petersburg, Design Manager, US East Region for Digital Realty Trust;
Alejandra Rodriguez, Director, Design – Americas for Yondr Group
Marshall Sorenson, Vice President for Shockey Precast, A Metromont Company
Ross Miles, Manager, Mission Critical – Eastern Region for Turner Construction
The panel will discuss whether or not companies are truly able to design and build energy-efficient data centers that address scopes 1, 2 and 3 of the Carbon/Greenhouse Gas (GHG) Protocols. These important scopes establish comprehensive global standardized frameworks to measure and manage GHG emissions from private and public sector operations, value chains and mitigation actions. As they explore, panelists will discuss the types of impact that tech giants and data center developers are actually having, and if these practices are being developed quickly and effectively enough.
Gibbs' panel is one of several at the event that is not-to-be-missed for those within the data center and construction industries. To meet the Prime Data Centers' team at DICE EAST, contact the team today.